Real or Fake? Crypto Twitter Impersonators Becoming Harder to Detect
Like a host of other social media networks, Twitter was once a reliable source of information for crypto enthusiasts. It all changed, however, with the emerging popularity of cryptocurrencies and the blockchain technology, as more people have started using the platform to defraud other, less tech-savvy (or attentive) members of the community.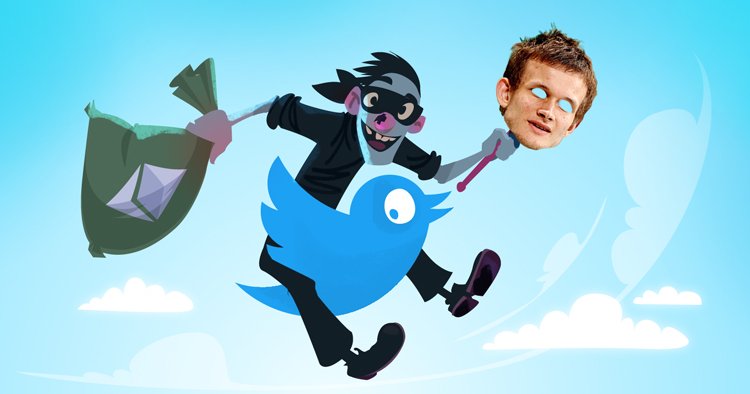 Fake accounts are by no means a new phenomenon. People pretending to be recognized entrepreneurs, celebrities, and opinion leaders have long been active on the social media networks. Once the crypto space experienced an astronomic increase in late 2017, its inhabitants became a new lucrative target for scammers.
Typosquatting (i.e., making a Twitter handle look almost the same as that of a prominent cryptocurrency advocate, such as @VitalikButerinn) has ceased to be an efficient way for those seduced by the temptation of making easy money on incautious crypto enthusiasts. Yet, if one opens up Twitter's Search tab and types Changpeng Zhao (who is the CEO of Binance, the world's largest cryptocurrency exchange by daily trading volume), the very first result will lead them to the impersonator's account offering free Bitcoin if one sends a certain amount of the cryptocurrency to the criminal's wallet. Chances are, some crypto Twitter newcomers will fall for it!
Please note this tweet is an example of the scam scheme described above. DO NOT SEND ANY BTC!!
Fraudsters, however, have turned to another, more advanced way of reaching their deceptive goals. They now purchase bots' likes, retweets, and replies—all in an attempt to look as legit as possible in their victims' eyes. Scammers even showed some creativity in their illicit efforts by having managed to use some of the situational marketing techniques to their advantage. Remember when Binance experienced outage back in February this year? One of the imposters replied to the company's CEO, saying Binance was sorry for the inconvenience and willing to grant their customers a certain amount of cryptocurrency as a reward for their patience. Later, the tweet was taken down—probably by Twitter's moderators.
The Industry Response
As it has turned out, getting the blue verified badge next to a username is not enough to prevent one's followers from having their cryptocurrency savings swindled away. On April 28, the scammers, who were trying to deceive prospective TON (Telegram Open Network) investors, hijacked one of the verified Twitter accounts and made it seem as if it were the official account of Pavel Durov, the Telegram founder and CEO: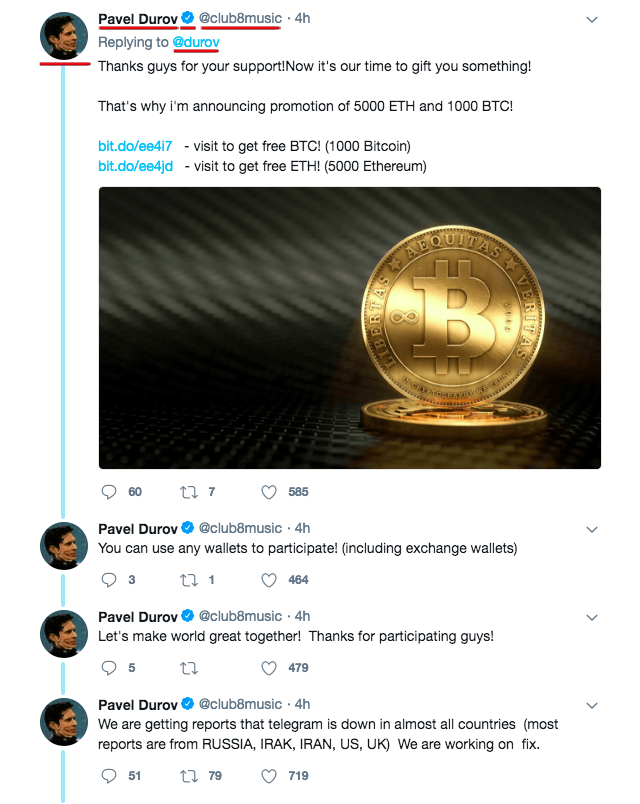 Please note this tweet is an example of the scam scheme described above. DO NOT SEND ANY BTC/ETH!!
Those are the reasons why Vitalik Buterin, the inventor of Ethereum—the world's second-most valuable cryptocurrency network behind Bitcoin—went even further and added the "Not giving away ETH" part to his nickname. Gavin Wood—the founder of Parity Technologies—took a similar approach toward the issue, as well as cnLedger, a famous account covering the Chinese crypto field, and many other accounts whose numbers of followers have already crossed the tens of thousands mark.
Cornell University professor Emin Gün Sirer was among those who stressed that Twitter officials had to take action against scammers and even received a response from Jack Dorsey, the social media platform's co-founder and CEO:
Charlie Lee, the inventor of Litecoin whom we interviewed back in January this year, also alerted his followers to the possibility of being scammed by those impersonating crypto personalities:
And the most recent word of caution by Mr. Lee (hint: just click on the link and there you have it!):
Cryptocurrency exchange Binance—the one we have mentioned earlier in this article—even pinned the tweet warning its customers about the risks of sending their funds to a stranger's address:
Solution
There is only one way to tackle the problem mentioned above: never trust anyone on Twitter who promises you free cryptocurrency (BTC/ETH/etc.) in exchange for a portion of your holdings. Always do your due diligence and double check the profile picture, the name, the handle, the blue tick, and even the number of followers and the overall account activity. Another great idea would be to visit the Team section of project's official website (the address of which can be found on CoinMarketCap or any major crypto news outlet) and see if there is any link pointing to a person's official Twitter account. The same rules apply to all other social networks.
Stay safe!