Waves Platform — #52BTC
Make sure you join our Telegram channel @DeCenterOrg to receive latest news, analyses, and prognoses about the cryptocurrency and blockchain markets!
Waves is the blockchain platform for issuing tokens and conducting ICOs. It was founded in 2016 by a Russian programmer, Aleksandr Ivanov.
The main Waves' products include the decentralized exchange (DEX), the crypto assets wallet, and the mechanism for token issuance.

Waves' ICO was held in the spring of 2016 and raised 30,000 BTC (around $16,000,000 at the time). For some time, WAVES was one of the top-10 tokens by market cap. As of now, it holds the 22nd place with the market cap of $503,684,000. 1 WAVES equals $5.04.
In 2017, WAVES price increase was caused mainly by the development of the blockchain platform itself. The company launched the decentralized exchange platform (DEX) supporting about 70 digital currencies at the moment. Another reason behind that growth is that the Waves platform became available on Microsoft Azure. Also, the company made it possible to refill the account balance with fiat money. WAVES was listed on popular platforms such as ShapeShift, EXMO, and Bittrex. In October, it started trading on the Bitcoin.co.id (Indonesia), UPBit (South Korea), and Cryptomate (the UK) exchanges.
Waves is positioning itself as a "crypto Kickstarter," which allows project owners to issue tokens needed to raise funds or be later used inside the project itself. Start-ups such as MobileGo (one of the most successful Russian ICOs), Starta, and ZrCoin used the Waves platform to run their ICOs.
The platform is indeed attractive. Waves is powered by its own blockchain, based on a proof of stake consensus algorithm. Waves customers who help maintain its blockchain network receive a monthly reward paid in MRT tokens. One could also generate income from leasing WAVES to miners rather than participating in mining activities.
Now the company is working on deploying a new Waves protocol, based on the Bitcoin-NG protocol (Next Generation). Bitcoin-NG was designed to address bitcoin's scalability issues, increasing network throughput to hundreds of transactions per second. There are also some other ambitious plans for the upcoming year. Among them are smart Waves contracts, based on bitcoin code; Tokenomica, which will include crowdfunding with KYC; and the client upgrade.
There's a roadmap that can be easily accessed to track company's performance over time.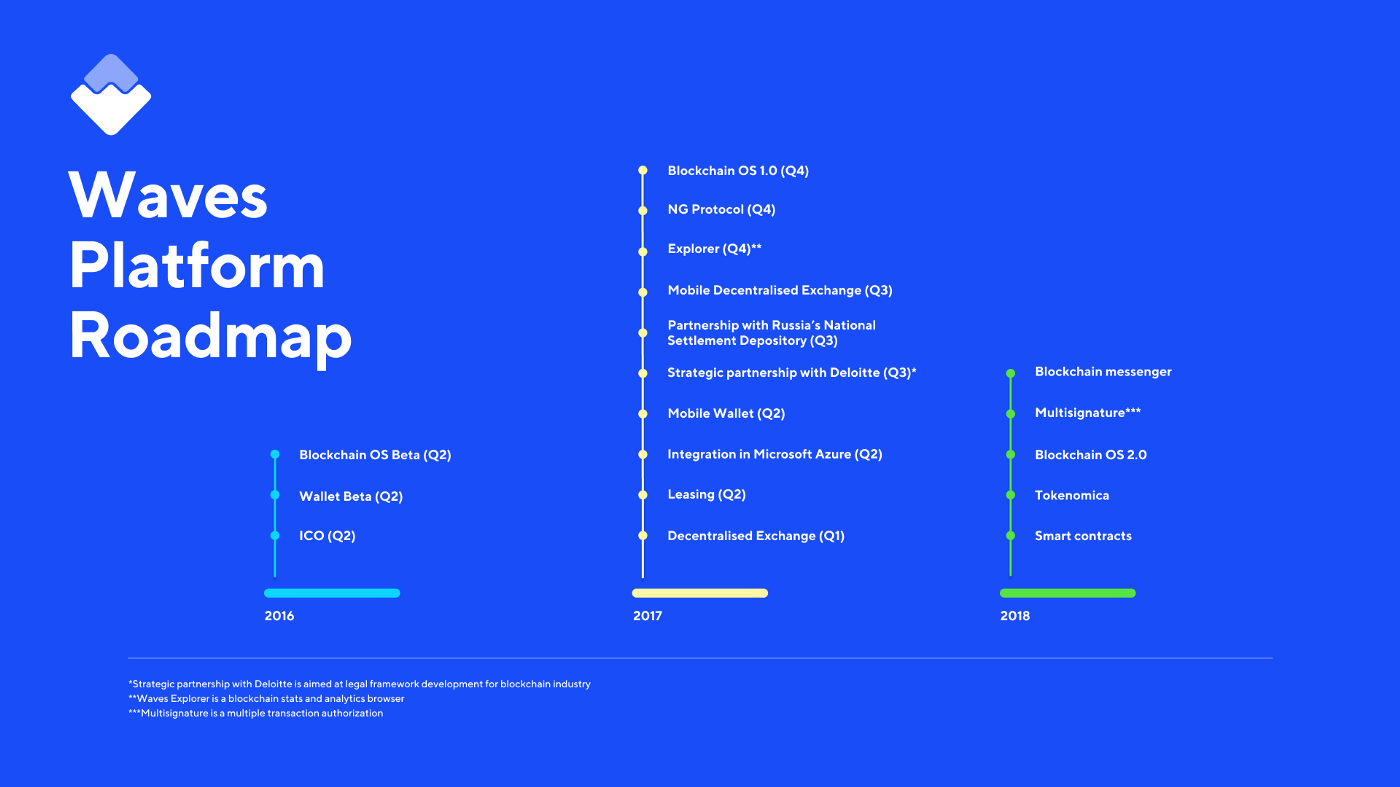 Conclusion
Waves is one of those rare companies which have products that already work as well as ambitious plans for their development.